When you love your dog, choose
to add the most powerful Omega-3
fish oil to their food.


Omega-3 fatty acids, especially EPA and DHA from oily fish,
support the health of your dog:
Most commercial dog food brands lack omega-3 fatty acids. If they are present, then they are vegetable flaxseed or rapeseed oil. But like humans, dogs can barely convert plant-based omega-3 (alpha-linolenic acid) to EPA and DHA. In addition, dog food may contain a lot of omega-6 fatty acids (sunflower or corn oil). As a result, your dog's fatty acid levels may be too unbalanced, in which case an omega-3 supplement rich in EPA and DHA is a healthy addition. Both humans and dogs depend on an adequate intake of EPA and DHA.
Based on research, we know dogs benefit from an Omega-3-Index of 5-6% to support the health of their joints, heart, brain, eyes, and skin. Omega-3-Index represents the amount of EPA and DHA in all cells and can be easily measured on a drop of blood.



Omega-3 fatty acids (especially EPA) support the
metabolism of joints in the case of osteoarthritis.
Use a starting cure of 3 months.
Of course, with joint problems you should first consult a vet and discuss with your vet whether or not it is useful for your four-legged friend to be given fish oil for longer than 3 months.



Discover how economically,
and usefully our unique omega 4 dogs is.
• Optimal bioavailability thanks to the Omega-3 triglyceride form
• Certified from sustainable fisheries.
• No artificial colours or flavours
• Cold environmentally friendly extraction technology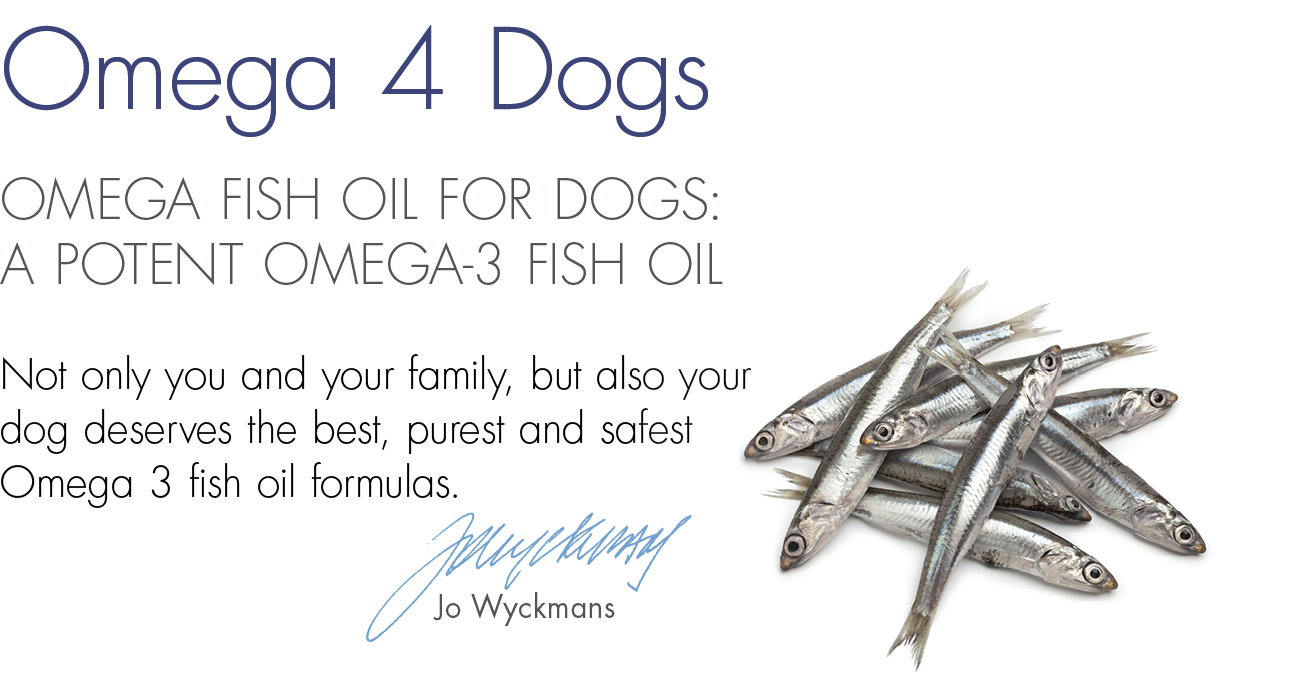 Guidelines
Store in a cool (max. 25°C) and dry place, away from light, do not freeze. Shelf life is 2 years before opening. Store in the refrigerator and consume preferably within 45 days after opening.


Additional information

Pack: 200 ml


References
• Dominguez T, Kaur K, Burri L. Enhanced omega-3 index after long- versus short-chain omega-3 fatty acid supplementation in dogs. Vet Med Sci 2021; 7(2):370-7.
• Mehler SJ, May LR, King C, Harris WS, Shah Z. A prospective, randomized, double blind, placebo-controlled evaluation of the effects of eicosapentaenoic acid and docosahexaenoic acid on the clinical signs and erythrocyte membrane polyunsaturated fatty acid concentrations in dogs with osteoarthritis. Prostaglandins Leukot Essent Fatty Acids 2016; 109:1-7.
• Boe C, Vangsness CT. Fish oil and osteoarthritis: current evidence. Am J Orthop (Belle Mead NJ) 2015; 44(7):302-5.
BUY
29.90 €
LOT : 30022741 - EXP.: 03/2024
---
Free shipping in Belgium to your home via UPS for orders from € 100.00 and via UPS Acces Point from € 75.00
FOR MEMBERS: select products, use your code and confirm your order