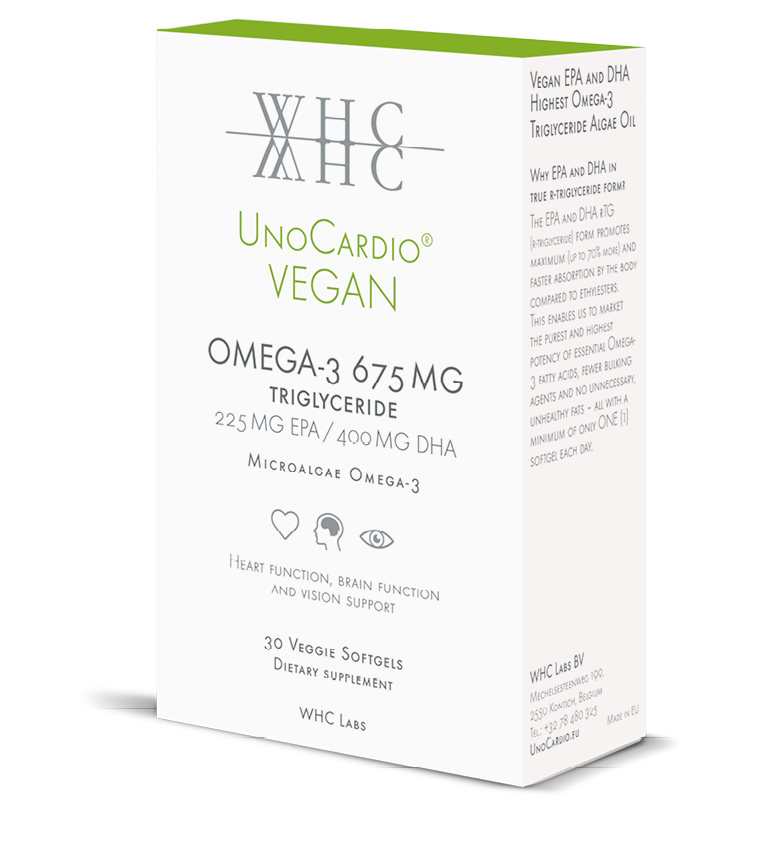 Are you a physician or health therapist looking for detailed scientific information on Omega 3 and synergetic ingredients mail us as research@whclabs.eu
We proudly introduce to you our unique pure and highest vegan Omega-3
Our UnoCardio Vegan algae oil is very high in EPA and DHA and a perfect alternative for people who don't want to eat fish. One (1) vegan softgel provides you with more than 675 mg Omega-3, or twice as much as most other algae supplements.
Thanks to its TRIGLYCERIDE (rTG) form the body will absorb the EPA and DHA extremely quickly and efficiently. The UnoCardio Vegan EPA and DHA is extracted using a three step Unique Purification Process. Each batch passes extensive quality controls to produce Ultra Pure Omega-3
Why extra EPA and DHA intake for vegans?
Plant foods are high in omega-6 fatty acids, mainly from vegetable oils such as safflower, corn and sunflower oils. In addition, vegetable omega-3 sources such as flaxseed, walnut, rapeseed oil and soy products contain the omega-3 fatty acid alpha linolenic acid (ALA). The body tries to make EPA and DHA from ALA. Studies have shown that a portion of the ALA consumed is converted to EPA, but against all odds, DHA in red blood cells may decrease by 25% *. That is why a daily supplementation with at least 500 mg EPA and DHA is recommended.
*Food Funct 2018: 9(3):1587-1600.
Benefits of EPA and DHA
EPA and DHA (at least 250 mg EPA+DHA /d) help to keep the heart functioning well, while DHA (at least 250 mg/d) also contributes to maintaining optimal brain function and good vision. EPA and DHA also help you maintain normal blood pressure and TRIGLYCERIDE (rTG) levels that are both already within the normal range.**
** With respectively 3 g and 2 g EPA+DHA per day
Do you know how much Omega-3 you are including from your food?
An Omega-3-index.com test will tell you whether you are eating sufficient healthy fats and will show which foods are best avoided.
It will tell you the exact amounts of Omega-3, Omega-6 and Omega-9 fatty acids, saturated fats and trans fats you are ingesting.
To maintain a healthy heart your blood must contain at least 8% Omega-3.
---
Exceptional High Potency over 75% omega-3 from Algae oil in TG form
Algae oil omega-3 providing 225 mg EPA and 400 mg DHA per 1 Vegan softgel
Cold and Environmentally-Friendly Technology
Optimum Bioavailability thanks to Omega-3 TG form
Certified for purity by 3rd party
No fillers or binders
100% Vegan
No burping
No added flavours
Gluten-free - Lactose-free
Directions as a dietary supplement for adults
Quickly increase your Omega-3 index to a healthy level by taking daily one (1) UnoCardio® Vegan softgel together with a meal. Best taken with a meal rich in fatty foods such as yoghurt, foods containing olive oil or other fats (For those who cannot swallow softgels: pierce once softgel and squeeze it into applesauce, yoghurt, or a food of your choice to obtain the benefits of UnoCardio® Vegan without suffering the effects of oxidation). This product is intended for adults only, excluding pregnant and lactating women.
Allergy info
Do NOT take when allergic to Algae. If you are using a blood thinner, talk to your doctor before use.
Guidelines
Store in cool (max. 25°C) and dry conditions, away from direct light. Do not freeze. Keep out of reach of small children. Food supplements are not a replacement for a varied and balanced diet or healthy lifestyle. Do not exceed the recommended daily dose.
Additional information
BUY
44.95 €
LOT: 2005089 - EXP: 06/2022
---
Free shipping in Belgium to your home via UPS for orders from € 100.00 and via UPS Acces Point from € 75.00
FOR MEMBERS: select products, use your code and confirm your order